Answer: NO.
Knight Adjustment Bureau Company Profile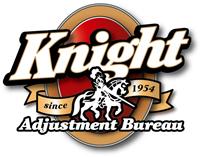 We are a full-service collection agency that has been in business for almost 60 years and is well respected in the collection industry. We are a proud member of the ACA as well as the Better Business Bureau and many other business associations. Our recovery rate is higher than average due to many factors including how long our company has been in business, the training and retention of top collectors, how our collectors are compensated, and our investment in the latest collection software and technology.
Address:
5525 S 900 E Ste 215 Holladay Cottonwood, UT 84117-3500
Phone Number: (800) 748-4113
Years in Business: 65
Business Started: 10/1954
Business Started Locally: Yes
Business Incorporated: Yes
Type of Entity: Corporation
Website: http://www.knightadj.com
Doing Business As: Collections Agencies
Company Reviews
What we know about Knight Adjustment Bureau
Knight Adjustment Bureau Inc or KAB is categorized under third-party collection agency Except for Real Estate based in Utah. According to the BBB, Knight Adjustment Bureau is a legitimate collection agency founded and incorporated in 1954. The BBB established KAB's profile page in 1983. 
If you -or anyone you know- have had Knight Adjustment Bureau or any other collection agency, violate your consumer rights let Sue the Collector help you!

Take a moment to fill out our Free Consultation Survey at the bottom of this page! Our expert legal team will review your information and will help you determine if you have a case against your debt collector… at no cost to you!